Products
/
Gingko - Octagon One Walnut - Desk Light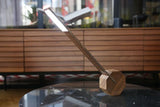 BAX Interiors
Gingko - Octagon One Walnut - Desk Light
$93.71 USD
or 6 weekly interest-free payments of $15.61
What's this?
The Octagon One desk lamp is a simple and striking design piece featuring a natural walnut wood-effect finish. The focal point of the design is a beautifully shaped octagon wood-effect finish base with a touch control button and built-in rechargeable battery which makes this lamp totally wireless and able to be positioned at three different angles.
Mounted into the base is the arm, a milled aluminium casing covered in the walnut wood-effect finish which contains 36 high quality LED light beads with a protective light-diffusing cover.
Touch sensitive on/off and control button on the base for power and four brightness level adjustments.
Product material: Aluminium, ABS in walnut wood effect finish
Weight: 745g
Size: 85mm long x 40mm wide x 380mm high