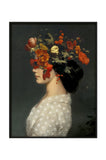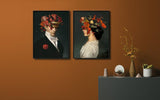 BAX Interiors
Garance Portrait - Wall Art
$0.00 USD
or 6 weekly interest-free payments of $0.00
What's this?
Collector is enriched by a new series of portraits of masked lovers : Secrets d'Alcôves. The couples can be composed and inverted. They are gazing at each other, seducing each other in an astonishing game of marivaudage.
"In the alcoves we whisper, we laugh under a cape, we exchange little secrets..."
The characters disguise themselves, seduce each other and exchange glances. Their heads covered with unusual compositions of fruit and flowers, each one is only half revealed. A toque of tulips and bigarreaux, a lemon and daffodil boater, mounted on an apricot branch and gooseberries as ear pendants.
Limited edition, numbered and signed 



Material : Printed aluminium and frame in black high pressure laminate
Matt finish

Dimensions : H.85 x W.64 x D.4 cm

Made in France

Indoor use